Frequently asked questions
A lot of people are unable to borrow from mainstream lenders because of their credit score, but things weren't always this way. For hundreds of years borrowing was based on your reputation. Bank managers were a part of the local community, personal relationships counted.
The Irish Credit Bureau was formed in 1963  and the Central Credit Register rolled out in March 2018 meaning lenders base their decision more and more on your score provided to the lender you are applying to. Over time, relationships will become less important, computers will take over and pretty soon a number on your file will be all that matters. Customers with high numbers are good and customers with low numbers are no longer welcome.
So if you're more likely to be able to pay off a loan quickly (for example because you are starting your own small business) you get a lower score because the bank gets to make less money out of you.
Amigo trust friends, not computer scores
We'd love to say this was our idea, that we've invented something new here, but we didn't. Guarantor loans have been around since Roman times. In Ireland, guarantor mortgages have been around for some time and most university students rely on a guarantor when they rent their first flat.
In the third world the Microfinance movement, started by Nobel Prize winner Mohammed Yunis, relies on loans being guaranteed by groups. Guarantor-based finance is a back-to-basics approach which is helping people all over the world achieve financial inclusion.
This isn't just a business, it's a cause
What we are doing here is important because it makes borrowing possible for millions of ordinary people who are being excluded by banks. Without us our customers would only have extortionate doorstep loans or loan sharks to turn to.
Who are those people?
Amigo customers come in loads of different shapes and sizes. Young people, people who have been out of the country for some time and micro business entrepreneurs are all very poorly rated by credit scores. What brings all of our customers together though is that they are trusted by their friends and family.
We believe everyone falls into one of these 4 boxes: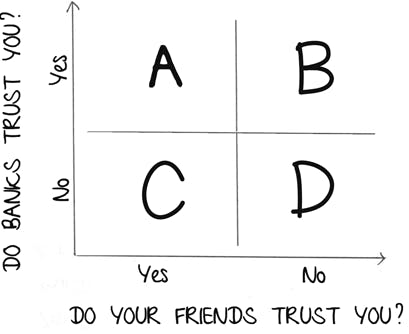 If you're in box A: you can borrow from a bank and you will repay. You don't need Amigo, you're likely to think we're expensive.
If you're in box B: you can borrow from a bank, but we don't think you should be able to. Box B is the reason the credit crunch happened.
If you're in box C: the bank's computer score has got you wrong. All Amigo customers are in box C
If you're in box D: you can't borrow from a bank or from us, in fact you shouldn't borrow from anyone right now. You might want to speak to Citizens Advice - your friends are telling you something, they know you best and borrowing is almost definitely not a good idea for you.
Q
Our application process explained
Getting an Amigo loan really is simple:
Make an application on our website, tell us how much you'd like to borrow and over how many months. We'll ask you to fill in a straightforward budget plan. This helps us to make sure the loan payments are affordable and is much quicker than doing it over the phone.
We'll give you a link to send to your guarantor so they can complete their part of the application. Once your guarantor has signed, we'll also ask them to complete a budget plan. This is to make sure the payments are affordable, just in case they are ever needed to step in.
Once your guarantor has finished their part, we'll give them a quick call to confirm their details and to arrange paying out the money. We may need to give you a call too, just to finalise everything. We'll always let you know if and when we can pay out the loan.
We aim to pay out every loan within 24 hours of the guarantor being accepted. We pay the money into the guarantor's bank account, for them to give to you. This is to protect customers from fraud, by making sure the guarantor is aware of the loan.
Q
Why do we provide guarantor loans?
Who would be a guarantor?
I know what you're thinking; why not just borrow directly from your friend? Lots of people do. We're not trying to change that, but there's a gap. As you'd expect, not everybody has a large amount of money they can lend. However, we've found that what is more important to guarantors is they're enabling the borrower to build or rebuild their credit record, meaning they'll be able to access more financial products in the future. Our own research tells us many people would turn to family or friends if they were turned down for credit by the banks, and while many won't have the money to lend, they still want to help. We're offering a way to make it happen.
Why don't guarantors get a bank loan in their own name for the borrower?
Surely a guarantor should be able to get a loan at a better rate? Some people do that too, but borrowing money yourself is very different to guaranteeing a loan. You have to manage the account yourself; make payments every month out of your own account; collect each payment from the borrower; the account is recorded on your credit file; applications, the loan balance and any late payments can affect your credit score. Most importantly, on an Amigo loan the borrower actually gets the chance to rebuild their credit rating. As payments are made on time, Amigo write back to both credit reference agencies (Irish Credit Bureau and the Central Credit Register) meaning that borrowers can eventually borrow on their own without help.
Amigo.ie is expensive though right?
Actually no, not in context. If you were to borrow €1,000 over a year from Provident at their headline rate of 157.3% APR you'd be paying back €30 every single week which adds up to €1,560. With Amigo you would pay back €1,236.72 and could pay a lot less if you made additional payments and paid us back early
Representative 49.9% APR (fixed)
Do guarantors know what they are getting themselves into?
Being guarantor for someone is a serious commitment. We go to great lengths to make sure no one ever goes in without fully understanding what is going on. First of all our contracts are really simple, we've cut them back to as few words as possible. Secondly we carry out a telephone interview with every guarantor to make sure they are able to pay if the borrower doesn't and lay out in plain English their obligations. To make sure the guarantor really is willing to pay we ask them to give us debit card details AND a Direct Debit to use if we need to. We send confirmation texts, letters and emails before the loan is paid out, and finally the loan is paid into the guarantor's bank account not the borrower's so that they definitely know the loan has happened.
What about the guarantor's own credit score?
We will look at the guarantor's credit file as part of our checks before paying out the loan to make sure that they are financially stable and haven't had trouble paying back their bills in the past. This is a special type of search called a 'Quotation Search', which will not affect their credit score held with the credit reference agencies.
The one time the guarantor could find their credit file and score affected is if both the borrower and the guarantor refuse to pay and we are forced to take court action. Where the court judges that the borrower or guarantor must pay and they still refuse, after 28 days the court could record the judgment on their file.
Q
How long does it take to get a loan?
We will always do everything we can to make sure your loan is paid out as quickly as possible.
We aim to pay out every loan within 24 hours of the guarantor being accepted. If you and your guarantor complete the application online, and all checks are completed without issue, we could get the money to you sooner.
When both you and your guarantor have signed the online agreement and completed your budget plans, we may give you both a quick call to confirm the monthly repayments are affordable. We'll always let you know when we can pay out your loan.
Some things that could slow your application down are:
If we're not able to speak to your guarantor when we call.
You've applied over a bank holiday or weekend, in which case we'll process your application as soon as we're back in the office.
We need something from you like proof of ID or a bank statement.
Q
Can I apply for a second loan?
Once you've borrowed from us you might be eligible to avail yourself of a second loan.
Your current balance must be €4500 or below
You must have made at least 12 monthly repayments on time
You must not be in arrears
To see if you're eligible just log in to your online account at www.amigoloans.ie/login.
Q
How do I make a payment or settle my loan?
We've made repaying the loan as simple and stress-free as possible.
When we pay out the money, we'll set up a monthly Direct Debit and collect your debit card details. This is so you have a backup if the Direct Debit ever failed, to help ensure the loan doesn't fall behind.
We promise to never charge you for making extra payments or settling your loan early. This will actually save you money, as you'll only repay what you borrow and the interest accrued for the time you have the loan.
To make a payment or settle your loan you can call our Collections team on 01 526 0891 (9am-6pm Mon-Fri)
Q
How do I change my payment date?
If you need to change your payment date, you will need to call our Collections department on 01 526 0891 (9am-6pm Mon-Fri). Our team will need to know why you're changing it and we will do our best to accommodate your request. We can't promise we will say yes but we will do our best to be able to help.
When requesting a payment date change:
You must have made your first repayment, it's really important you choose the right date when you set your loan up
You can't be in arrears on your repayments with us
You can move the repayment date up to 7 days from the date you previously agreed to repay us
You give us at least 5 working days notice to change a payment that we take via Direct Debit
We might ask you to show us a letter from whoever pays you to help us understand why you need to change dates
Q
Who can be my guarantor?
Many customers use a friend or family member but your guarantor can be anyone that you know or trust, as long as they are happy to make any payments you do not.
Remember, your guarantor needs to:
Be aged 18-75
Have an Irish address
Have a strong credit score with a history of always paying their bills on time
Be able to afford the monthly payments if you didn't pay
A guarantor is someone who agrees to back up a borrower's loan and steps in to make payments if the borrower doesn't.
The guarantor needs to be aged between 18 and 75, with a good credit history. It is the guarantor's responsibility to make the repayments on the loan if the borrower ultimately does not. Therefore, we will only approve someone as a guarantor if they have enough money to cover the monthly payments to the loan, should they be required to, as well as live their normal lives.
View all questions